Today only, December 2, 2015, save 60% off watches for the whole family. Wow, what a great deal. Zazzle carries 44 different styles of wrist watches from men, women and children. There are so many different designs that we can't show all of them to you here. However, you can use this link to the Zazzle Watch Marketplace to see all the great designs created by Zazzle designers. All watches shown have different styled bans for men, women and kids too.
To save 60% off watches just use coupon code ZAZWEEKSALES upon check out. This code also gives you different discounts on many more products sold at Zazzle.com. To view more deals visit Zazzle.com.
This deal ends at midnight so order soon to receive your 60% off all wrist watches.
Black Eyed Susan Wristwatch
by
DaisyChainShop
See more Whimsical design Watches at
zazzle.com
White Rabbit Steampunk Wristwatch
by
curiosityshop
Browse Steampunk Watches online at
Zazzle.com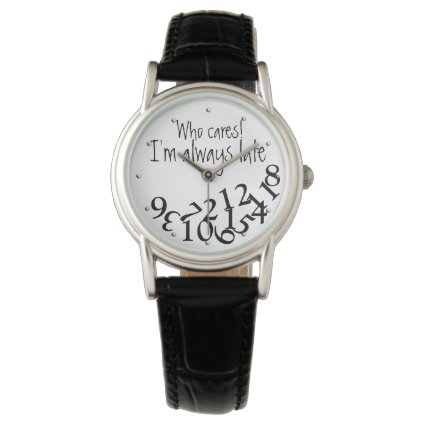 Funny Who Cares, I'm Always Late Numbers Face Wrist Watches
by
cutencomfy
Look at Her Watches online at
Zazzle.com